Probabil cea mai admirata vedeta pentru machiajele pe care le poarta, Kim Kardashian este personajul cel mai des mentionat in mesajele voastre cu rugamintea de a recrea look-ul. Odata ce terminati de citit acest articol, veti stii ce culori va ajuta sa obtineti acest tip de machiaj, dar si unde le puteti gasi. Si ce alt moment mai potrivit decat o zi de vineri pentru aceasta postare, intrucat este un machiaj ideal pentru o seara petrecuta in oras.
Culoarea inchisa a ochilor si a parului ma ajuta sa obtin, cat de cat, efectul dorit, dar luati in considerare ca nu avem aceeasi forma a fetei, de unde si micile diferente. Si mai am o singura mentiune de facut: daca doriti un machiaj cat mai natural, la care sa folositi cat mai putine produse intr-un strat cat mai lejer, ei bine, nu ati ales machiajul potrivit

Pentru a obtine acest rezultat, produsele mentionate mai jos se aplica in 2-3 straturi pentru a avea acest grad de acoperire si aceasta intensitate. Pe de alta parte, Kim nu este tocmai recunoscuta pentru machiajele ei naturale

Asadar, sa trecem la treaba si sa vedem cum obtinem acest look

Veti avea nevoie de un primer sau o baza cremoasa pentru ochi, care asigura intensitatea si rezistenta fardurilor de pleoape, si de o gama de marouri si un alb-perlat sau ceva cat mai asemanator.
Produse folosite pentru ochi:
M.A.C. Paint Pot – Soft Ochre este folosit ca baza de machiaj pe toata pleoapa superioara si la baza genelor inferioare.
M.A.C. Eyeshadows – Cork, Embark, Texture, Carbonized, Naked Lunch. Incepand cu o nuanta de bej-maroniu (1), definesc pliul si evidentiez si mai tare cu maro inchis (2&4) . Cu un maro-portocaliu (5), blenduiesc machiajul deasupra pliului. Nuanta deschisa (3) este aplicata pe pleoapa mobila si in coltul interior al ochiului. Acelasi lucru si pe pleoapa inferioara, pornesc de la nuanta cea mai deschisa la cea mai inchisa in coltul exterior.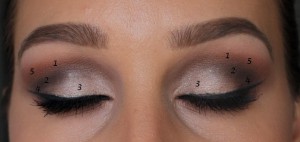 M.A.C. Fluidline – Blacktrack pentru a defini linia genelor si a alungi forma ochilor.
Maybelline The Colossal Volum' Mascara – Glam Black – mascara mea preferata.
Anastasia Beverly Hills Express Brow Kit – Brunette pentru a contura perfect sprancenele.
Produse folosite pentru ten:
M.A.C. Face and Body Foundation – C2 este un fond de ten pe baza de apa, extrem de lejer si placut la purtare, pe care l-am folosit mai mult ca baza de machiaj. Am aplicat un singur strat.
M.A.C. Mineralize Skinfinish Natural – Light & Dark este pudra minerala cu finish semi-mat ce arata foarte natural pe piele si poate inlocui fondul de ten la nevoie. Nuanta deschisa este aplicata in centrul fetei, iar nuanta inchisa pe pometi, tample si barbie.
M.A.C. Powder Blush – Sincere & Harmony folosite pentru a evidentia pometii, dar si pentru a contura nasul. Orice machiaj in stilul Kim Kardashian necesita conturarea nasului pentru a-l subtia.
Bobbi Brown Shimmer Brick – Beige pentru a ilumina pometii, lucru pe care Kim nu il omite niciodata, odata cu conturarea pometilor. Si, pentru ca nu am mai folosit acest produs de ceva timp, se pare ca, odata cu venirea toamnei, m-am reindragostit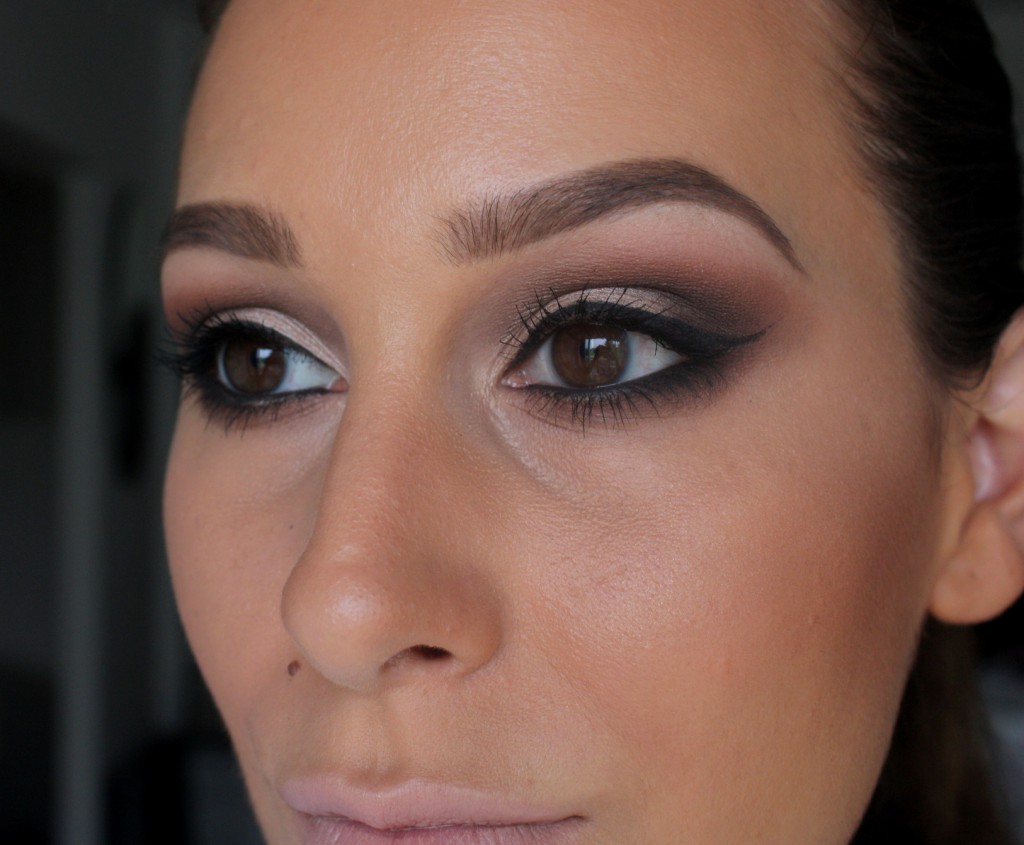 Produse folosite pentru buze:
M.A.C. Lipstick – Myth este rujul nude perfect. Arata putin prea deschis in combinatie cu tenul bronzat al lui Kim, dar acesta completeaza perfect machiajul si ma ajuta sa obtin exact efectul dorit

Iar daca va place acest machiaj, dar nu aveti aceeasi forma de ochi, iata cateva indicatii utile pentru voi!
TIPS: Acest tip de machiaj este ideal pentru ochi mici, migdalati sau apropiati. Asta nu inseamna ca nu il puteti purta, ci trebuie putin adaptat in functie de fiecare fizionomie. Pentru ochi adanciti, inlocuiti nuanta sidefata de pe pleoapa mobila cu una mata, altfel riscati sa intensificati efectul de adancire (adica in loc de Naked Lunch, puteti folosi Brule tot de la M.A.C. sau orice altceva cat mai asemanator).
Daca aveti ochi mari si rotunzi, nu urcati la fel de mult peste pliu catre spranceana si pastrati machiajul de pe pleoapele inferioare ceva mai discret pentru ca efectul nu va fi acelasi.
Sa aveti un week-end cat mai placut!